Add and use team inboxes
Overview
A team inbox is an organizational space where you can categorize or sort conversations. Team inboxes can have channels feeding messages into them such as email, Twitter, SMS; or can have no channels and be an empty inbox for which you can create rules to automatically move conversations into or manually move messages into. Any admin can create a team inbox, edit its settings, and change teammate access. This article will give a general overview of how to add team inboxes.
Looking for a specific setup guide for Gmail, Office 365, Twilio and more? Head here for platform-specific setup guides.
---
Instructions
Add a new team inbox
Step 1
Click the gear icon on the top right of Front and into the Company settings tab.
Step 2
Click on Inboxes on the left menu and Add a team inbox.
Step 3
Fill out the name and description of your inbox. Click Create.
Step 4
Choose a channel type. 
Or, if you'd like to create an empty inbox, click Continue without channels.
Step 5
Follow the steps on screen to complete setting up for the channel type you've chosen. We have specific setup guides for the different channel types in this section of our Help Center.
Step 5
Choose whether you'd like to make the inbox public to everyone on the team, or choose Select which teammates have access and select the desired teammates. Click Continue.
Step 6
Finish configuring your inbox settings. Click Finish to create your new public inbox.
You and those teammates should now see the new team inbox listed in your Team workspace, and can now work out of it or move conversations to it.
Move conversations to a team inbox
To move an existing conversation into your team inbox, you can drag and drop the conversation or use the Move menu on the conversation, explained in detail in this article.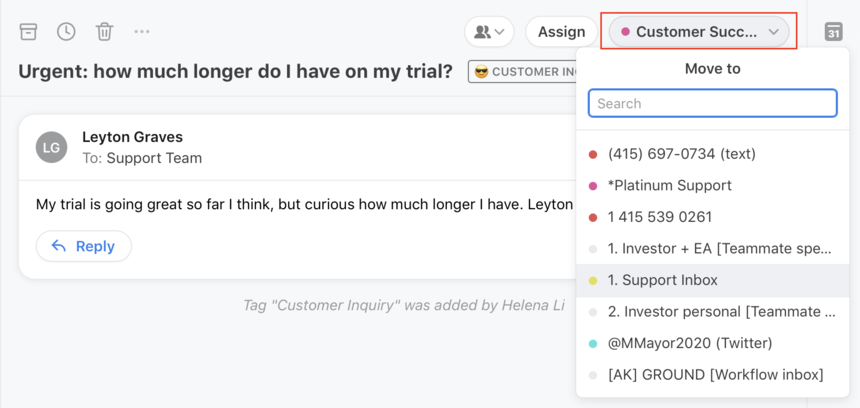 Add additional channels to your team inbox
One team inbox can have multiple channels within it. To add additional channels to an existing team or individual inbox, go to your inbox settings and click on the Channels section, then Add channel. For details and tips on using inboxes with multiple channels, check out this guide.
---
FAQ
Yes, when you create any new inbox, including public inboxes, you will have the chance to select which teammates you'd like to pin the inbox for, so that it shows in their workspace automatically. This setting is found in the Settings subsection of the inbox settings. 
However, you will not be able to pin the inbox for other teammates for inboxes already existing, so teammates will need to pin existing inboxes themselves.
Hi Miguel,

1. Currently, there is no such thing as subfolders in Front.

2. We've temporarily removed the ability to create individual folders. There was an issue where conversations that were moved from a shared inbox to an individual folder become private conversations to that user. So, the team that once had access to the conversation, lost access because it now sits in an individual folder. We'll be releasing a new behavior for individual folders soon, though.

Thanks!

Ram Hi! You can create a new analytics report and exclude folders from there. Regarding individual folders, we're currently working on it! Stay tuned for the announcement 😀

@Cori  I am new to Front and just now setting up my preferences, etc.  I read through this thread regarding folders/subfolders.  Has this feature been launched yet, and if so, how do I set my private folders/subfolders up?  In my Outlook, I have a lot of folders/subfolders and I won't be able to integrate fully over to Front without having this feature.

I look forward to your reply.

Cori Morris I am new to Front and just now setting up my preferences, etc.  I read through this thread regarding folders/subfolders.  Has this feature been launched yet, and if so, how do I set my private folders/subfolders up?  In my Outlook, I have a lot of folders/subfolders and I won't be able to integrate fully over to Front without having this feature.

I look forward to your reply.

Hi,

I am new to Front and configuring the system for the first time. 

1. Given that it is not possible to create private folders, is a work around to set up each user with their own team/channel and then to create a team folder for that user's team/channel? If so, do you see any problems with this?

2. I would also appreciate being updated when the feature of being able to create a private folder becomes available.

Best

Michael

Hi @michael We will definitely keep you posted about all updates on this topic. As for your second question: Front can be very versatile regarding matching your specific needs. I would encourage you to reach out to us at support@frontapp.com so that we can discuss your particular sett up and your needs in more detail. :)