How to compose, send, and customize messages
Overview
Composing a message in Front is super simple! The big blue Compose button at the top of your inbox is a one-stop-shop for sending messages from any of the different communication channels you have linked to Front (e.g. email, SMS, etc.), and for sending from either your individual inbox or a team inbox.
---
Instructions
Step 1
To compose a new message, click the Compose button at the top left of your inbox.
Step 2
Compose your message in the popup window. If you close the window before you send, you'll be prompted to save your draft. Learn more about Front's composer here.
Step 3
Send your message! Learn more about sending options here.
---
Sending channel and inbox
When composing a new message, you're able to choose what type of message you'd like to send (e.g. email, SMS, etc.), and in turn, which inbox the new conversation will live in.
Click the From address in the composer, then select a channel to send from.
Sending from an individual or team inbox
When choosing a sending channel you will see options for both private and shared channels.
If you choose to send a new message from an individual channel, the new conversation will only be accessible in your individual inbox

If you choose to send from a team channel, the message will accessible to all teammates who have access to the associated team inbox
Sending a reply in new conversation
If you would like your outbound replies to be sent in a new conversation, instead of threading into the existing conversation, you have the option to enable this in your personal preferences. Go to Preferences within your personal settings, and toggle on Send in new conversation. Your replies will now create new conversations in your inbox.
---
Customizing your message
Text formatting
Click the formatting options icon at the bottom left of the composer to show/hide the formatting toolbar. See here for more information about formatting options.

Emojis
Emojis are supported in the Front composer. Use the emoji picker to search for the ideal emoji to insert into your message ✨
Note: You can also use preset and custom emojis to react to your teammates' internal comments. See here for more information.
Attachments
Select the paperclip icon to attach files from your computer, Dropbox, or Google Drive. More details on attachments can be found here.
Message templates
Click the message templates icon to insert an existing individual or team message template, or create a new message template. If you use a message template, you can always edit the message body before sending.
Snoozes
Set a snooze on your email before sending out a message. See more on snoozing here.
---
Subject and conversation name
Message subject
New messages
When composing a new message, you'll see the subject line underneath the To field.
Replies
When composing a reply, you will need to click Subject at the top right of the composer to expand the subject line.
Renaming a conversation
By default, the conversation names that show in your conversation list will match the messages' subjects.
However, you can rename any conversation! This will allow you to replace messy conversation names like "RE: FWD: Important!" with something more informative and organized.
Step 1
Open a conversation, and click the conversation name at the top to begin editing.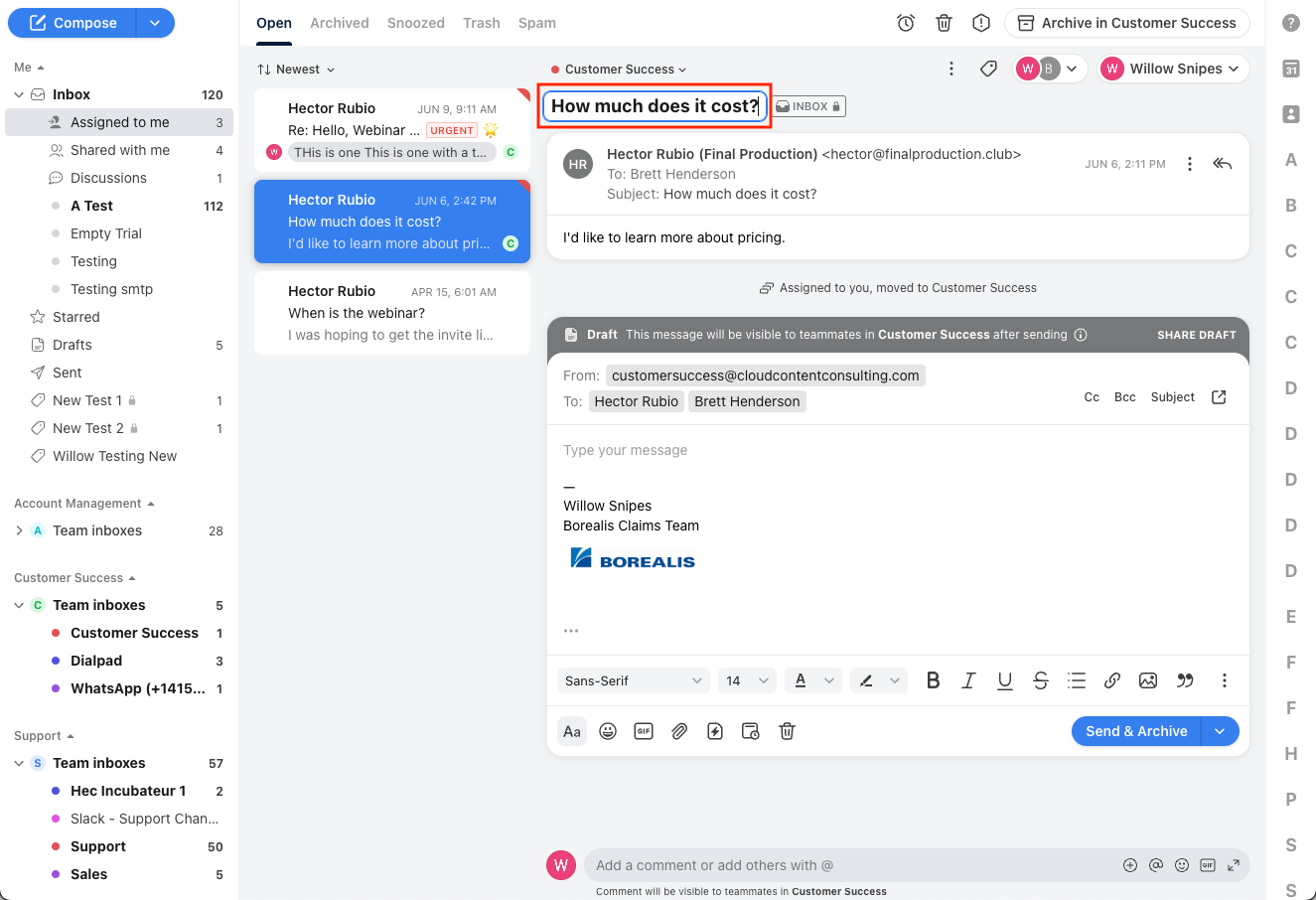 Step 2
Type your new conversation name.
Step 3
Your conversation's new name will now be displayed in the conversation list.
 Notes:
The conversation name change is internal only, this does not change the external recipient's view of the message subject
For shared inbox conversations, changing a conversation name changes the name for all members of the inbox, not just your own personal view