Custom contact fields
Overview
Front allows you to add more details to your contacts, such as job title or NPS score. Custom fields must be created manually, and can be updated via our API or through third-party contact integrations. You can also use the rule engine to scan for your custom contact fields to automate actions. Once custom fields are created, they will be available for use as custom variables in message templates and signatures.
You must be a Company Admin to create new custom contact fields.
---
Instructions
Step 1
Click the gear icon on the top right of Front and into the Company settings tab, and select Custom Fields from the left sidebar menu.
Step 2
In the Contacts tab, click Add contact custom field.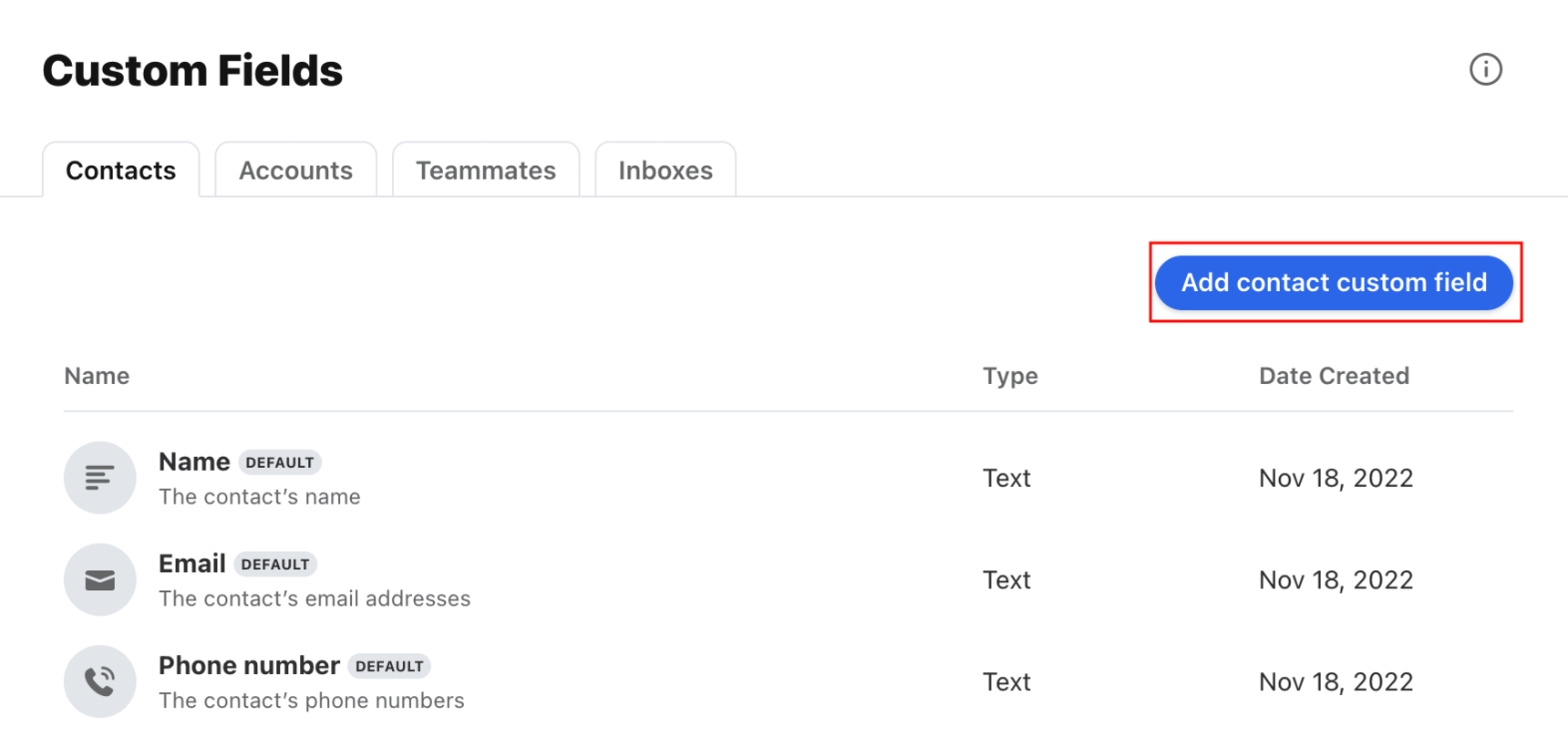 Step 3
Enter a Name and Description for your custom field, then select a data Type. See this article to learn more about custom field data types.
Step 4
Click Create.
---
How it works
View custom fields in Contact Manager
Any custom contact fields you've created will show as columns in your Contact Manager.
Add custom field to a new contact
When creating a new contact, click Show more to display your custom contact fields.

Add custom field to an existing contact
When editing a contact, click Add at the top of the About section to pull up a list of the custom fields you've created.
Im in the demo app at the moment so I am a bit limited - Custom fields can you have drop downs with options? The way you have named things to a non geek confuses me a bit.

Stephen Martin You should have all access to custom fields on a trial. Can you clarify what you mean by drop-downs with options?

We want to recommend you to a client but they want to use you as a very basic CRM to keep everything in the same place (deal tracking is via Trello) but they need to be able to group contacts as Advisers / Suppliers / Providers and have a few different custom fields where they can drop down a list on a contact and select an option. Is that possible?

P.S. I love your community section is it your own built app or is it a piece of SAAS lol

Stephen Martin You can create Contact Groups for Advisors, Suppliers, and Providers. From there, you can create a custom field for zip code (for example). I don't understand your question. When you say "select an option" what do you mean? To do what with?

And, thank you for the kind words. It is not our own. We use Forumbee 🙂

Great. 

You know how a form has a drop down field with options - Can we create custom fields that have drop down selectable options not just open fields?

Stephen Martin I see. No, we don't have a dropdown field at this time. You would have to manually write the zip code.

Your account manager should love to further walk you through Front. I believe he has emailed you 😁

It seems you can't search contacts based on custom fields. Is this possible? e.g. We created an 'internal id' field, but any searches on using the ids always come back empty

Can I configure contact fields per team? I

I'm a team admin and when I go to settings I don't see the ability to add create contact fields for my team.

Hi Jacob Bockelmann this is a feature request I've opened for you!

Is there a limit to the # of custom contact fields we can import? 

Does this new love for Custom contact fields mean that the long wished for ability to use them as variable/merge fields in templates might be coming soon? (Fingers crossed again)

Romulo Manzano 

This would be a tremendous help! 

+1,000

I found it! The custom contact fields are somewhat renamed but they appear to be there. i.e. Home Address becomes recipient.home_address
And, it WORKS

Thank you!

Hello, do you plan to implement the ability to search contacts by custom field values?

 

https://help.frontapp.com/t/k929pr?r=80dqbx

Jason S Hey Jason, this feature request is in our product backlog. I've added +1 vote for this, and we'll let you know if/when this is supported in Front.

Where's the create custom field button? I cant find it

carlos. alvarez Hey Carlos! You'll find the need to start by clicking the gear icon at the top left of your inbox, then go to your Company settings. Then go to Contacts, and you'll see the Add custom field option. Note that you will have to be an admin in order to create custom fields.