How to set up an Aircall inbox in Front
Edited
Overview
Aircall is a cloud-based phone system and call center software solution that allows you to log call activity and listen to call and voicemail recordings directly in Front. The instructions in this article are to set up the Aircall channel to receive a record of all your calls into Front as messages.
If you wish to set up the Aircall dialer plugin to make and receive calls directly from Front, please follow the instructions here.
---
Instructions
Step 1
Click the gear icon on the top right of Front and select company, Workspace, or personal settings in the left sidebar, depending on the space you're working with.
Step 2
Click Inboxes in the left menu and create a new shared inbox or individual inbox.
Step 3
Click Channels in the left menu, then click the Connect a channel button.
Step 4
Choose Custom from the channels menu.
Step 5
Enter a name for the channel. In the Channel contact type dropdown, select the contact type this channel uses. Click Continue.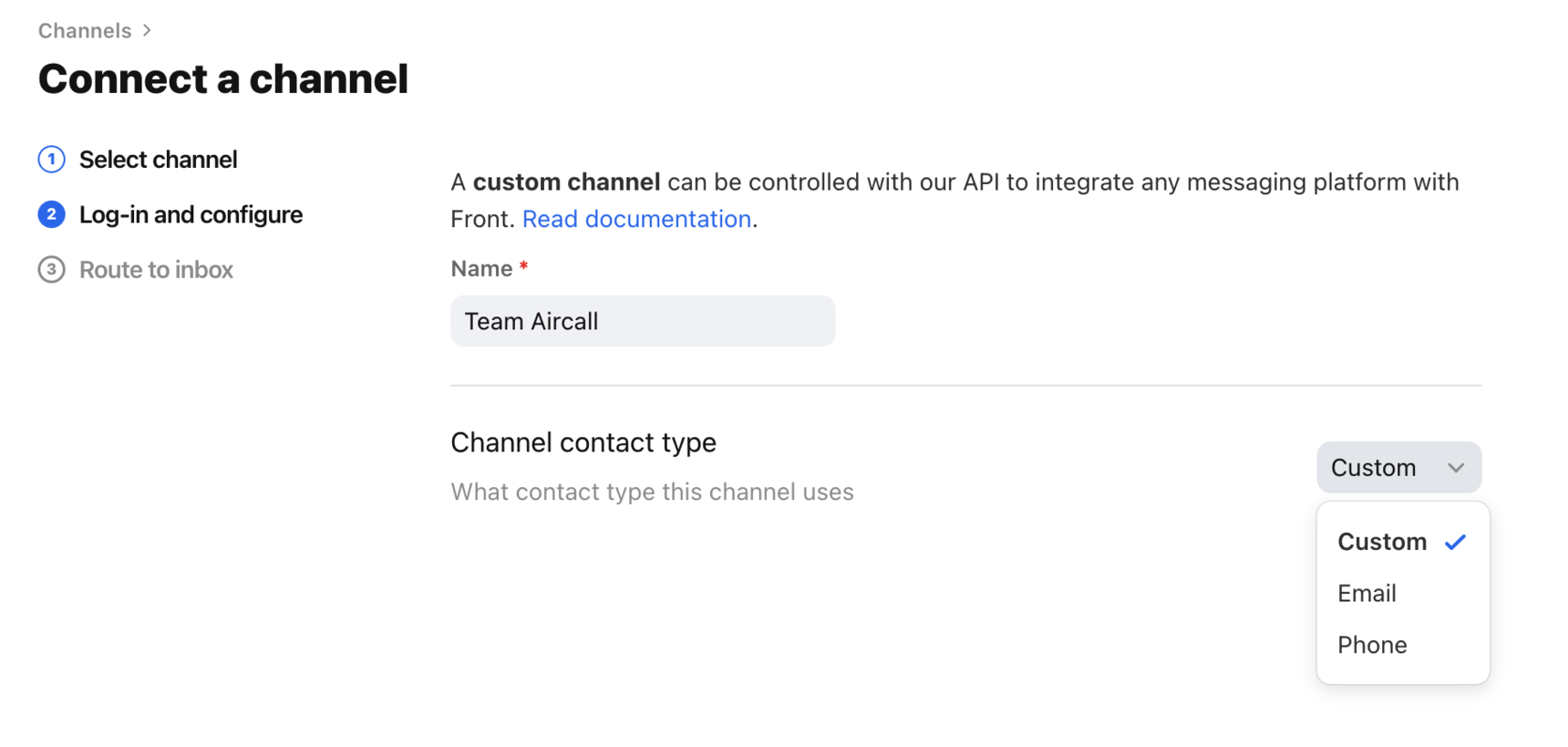 Step 6
Choose the inbox that conversations will route to and click Save.
Step 7
Click the new Aircall channel, then click the Settings tab.
Step 8
Expand the API Endpoints section, and copy the value in the Incoming field. Be sure to copy the first URL in the list in order for messages to correctly sync from Aircall to Front.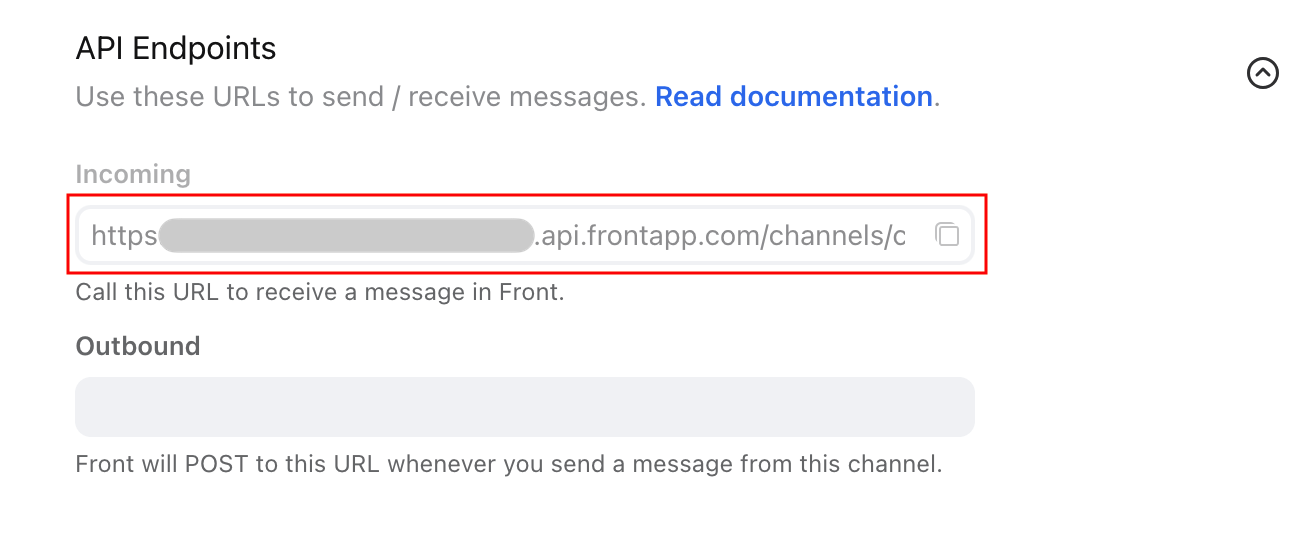 Step 9
Go into your Aircall dashboard, select Companies, Integrations, and Add an integration. Choose Front from the integrations menu.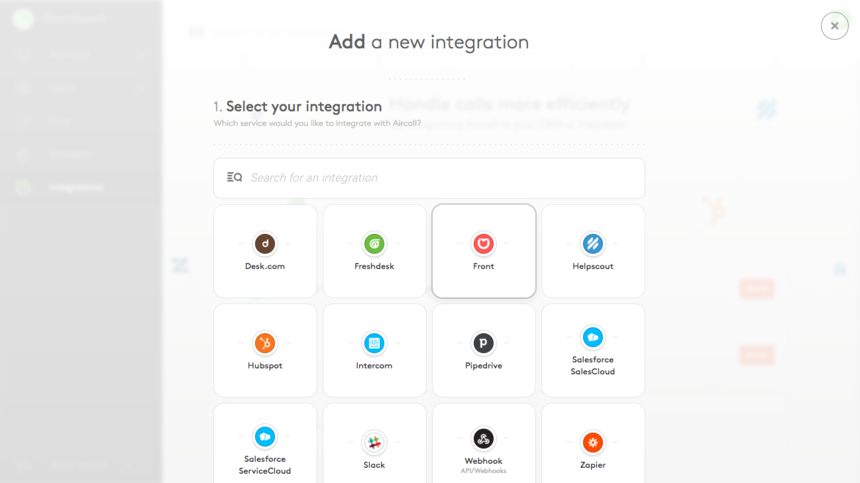 Step 10
Paste the URL from your Front channel in the URL field in Aircall.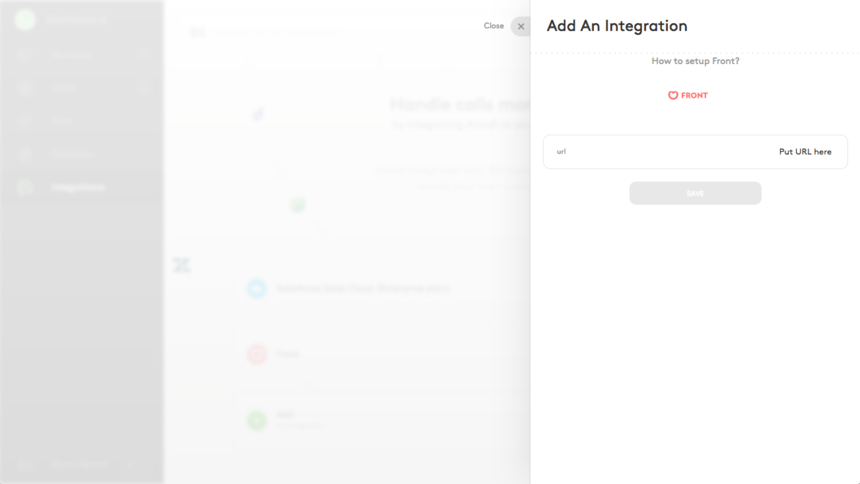 Step 11
You should now be able to log calls in this new inbox. To have call recordings sent to Front, you'll need to make sure call recordings are activated in your Aircall settings.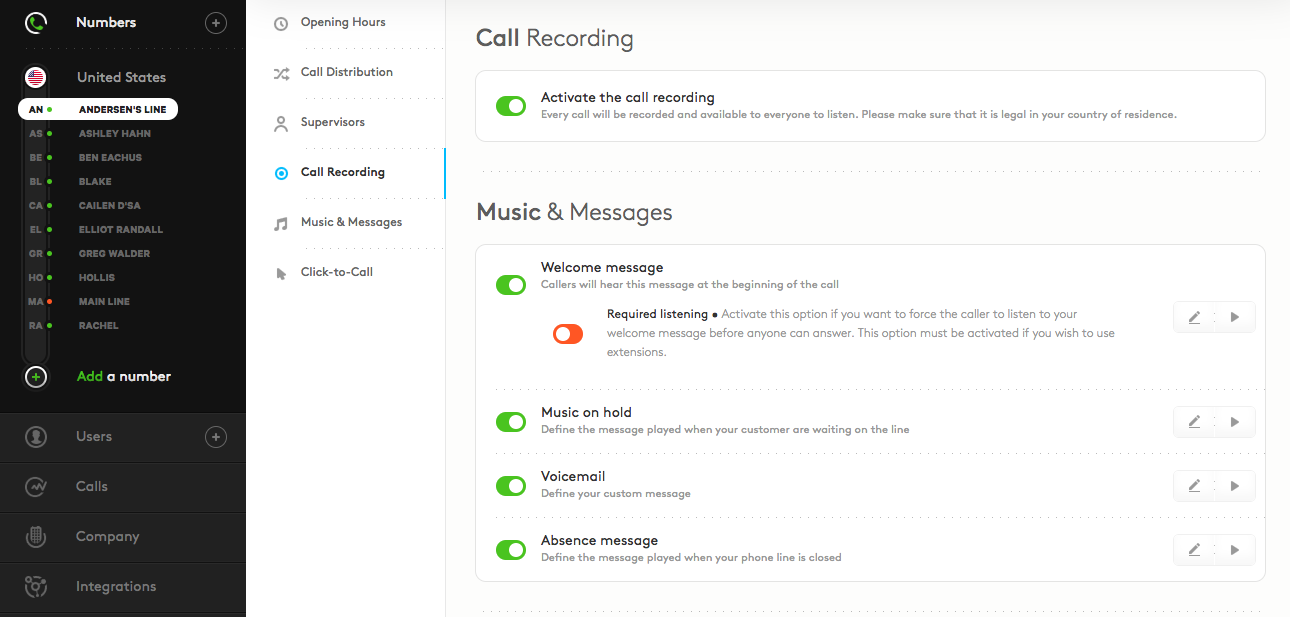 ---
How it works
You should receive messages in Front for the following Aircall activities:
Inbound call answered (with link to call recording)

Missed inbound call

Voicemail (with link to voicemail recording)

Outbound call answered (with link to call recording)

Outbound call not answered
Comments written in Aircall will sync to Front as comments on the related conversation.
---
Contacts
The Aircall integration supports contact sync in a few ways:
One-way sync of contacts from Aircall to Front: if contact exists in Aircall but does not exist in Front, the first logged message will create a contact in Front with the name and phone number of the Aircall contact.

If a phone number matches an existing contact in Front: message will show that contact name as the sender and will include Aircall activities in the contact details.

If a phone number does not match a contact in Front: Aircall will create a new contact for that phone number, which you can edit later to add a name or email.
Aircall built and maintains this integration, so please contact support@aircall.io for questions and troubleshooting assistance.
---
Pricing
This feature is available on the Growth plan or above. Some legacy plans with different names may also have this feature.