How to import your Gmail/Office 365 inbox email history
Overview
When you connect a Gmail or Office 365 account as a shared inbox or individual inbox in Front, you can choose to import the most recent 50,000 messages.
---
What imports and syncs?
To see what exact aspects import and sync, see these articles:
---
Instructions
Step 1
Make sure the inbox is a Gmail or Office 365 account when you add it. 
Step 2
Once you create the inbox and enter the details, you will see a section titled Import. In this section, you can:
Choose to import all historical conversations, or do not import any historical conversations
Choose to import and sync all folders or labels, or import/sync no folders or labels
If you do not wish to import these items, turn the toggle(s) off.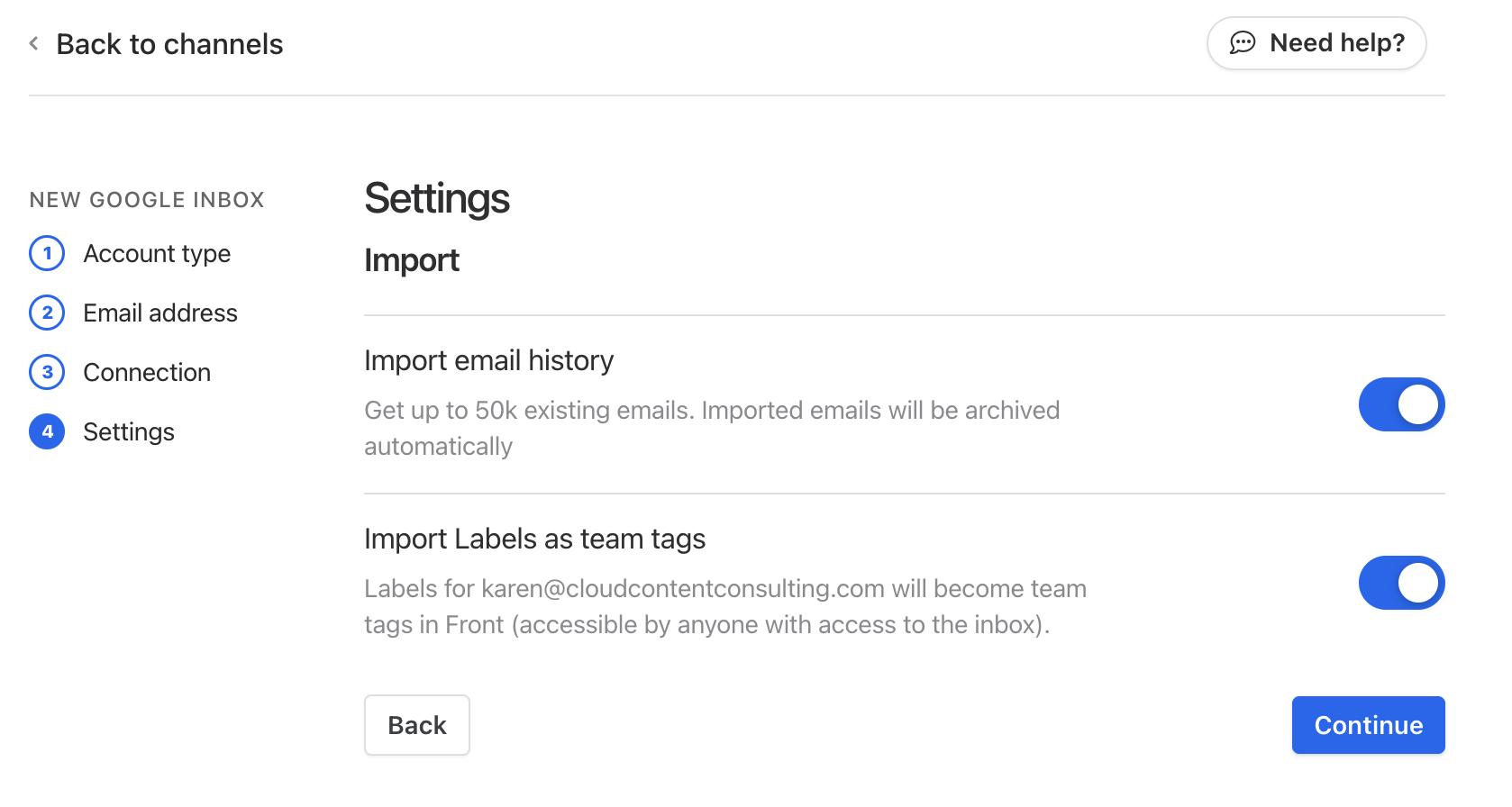 For a shared inbox, all conversations will be auto-archived upon import, so they will appear in the Archived inbox tab view.
Step 3
Once you click Continue, the import will begin. You will see a progress bar at the bottom of the conversation list that says Importing history.
Step 4 (for individual inboxes)
All messages for an individual inbox will import in their current status. This means if a message is unread in Gmail/Office 365, it will appear as unread in Front. For Office 365, upon import, we will also automatically add up to 500 folders (tags in Front) to your sidebar, retaining the original nesting structure. If you have more than 500 folders in Outlook, you can customize your sidebar in Front to show the tags you need to see.
Step 5 (for individual inboxes)
If you added an individual inbox and imported more than 50 emails, then you will see a prompt to ask you whether you want to archive your imported emails so that you start with a clean inbox.
---
FAQ
Why didn't the Sent folder sync?
Front's Sent folder contains only emails sent directly from Front. Your sent messages from Gmail or Office 365 will import, but will appear within the email threads in the inbox. You can search for your imported sent emails in the inbox by using the search filter from:email. 
Can I import distribution list history or other email providers?
No, we cannot import the history for Google Groups, distribution lists, or from email providers other than Gmail and Office 365 full inboxes.
In what order do messages get imported?
Front will import your messages from the newest to the oldest.
Is Front able to import messages from other sources?
Yes! Front can also import your message history from Freshdesk, Zendesk, and Help Scout.
Cori Morris Hi there, again :-) I have a few more questions regarding importing my history.

1. Will my canned responses in my Gmail account get imported with the history, if so will it hold the same titles or will I need to rename?

2. How will it look with all the tags imported? Will all emails be archived? 

3. If I request to import my history will it import up to the current date or only up to the day that I registered to Front?

Thank you, again!

Darling Gomez No problem!

1. We don't currently import canned responses.

2. We don't currently import tags for individual inboxes. Only team inboxes. Yes, all imported emails will appear in your archives.

3. We will import all of your history.

Hi there,

Is it also possible to import a google groups email box?

Ram Hi there, no, this isn't possible.

Cori Morris Can I get somebody to import my emails from 1 frontapp to another? You guys know the API more than I do.

Preston Tighe Hi there,

We don't currently import conversations from one Front instance to another. If you want to use our API to export your emails from one instance, and re-import them to the new instance, you can do that. However, it looks like you're on our Basic plan, which doesn't provide access to our API. Sorry, I can't be of more help!

Cori Morris Ok then at least discount my plan down to $15 because I would be on a team of 3 paying annually? Seems kind of silly you are bringing up plans in this instance. I literally am just trying to bring my history from 1 account to another. This should be a standard feature. Export and import.

Cori Morris I already have. Not of my requests seem to work.

Preston Tighe I can't seem to find any recent emails from you. Can you send another one?

I emailed Holi a couple times using this Yahoo email.

Preston Tighe Try team@frontapp.com