Manage your billing and invoices
Overview
Front accounts have a self-serve billing center, where you can view your plan or payment details, manage licenses, and view your invoices.
For help understanding invoices, refer to this article. If you need help, reach out through our contact form.
---
Manage your plan
Step 1
Click the gear icon on the top right of Front and into the Company settings tab. Select Billing under the Company section. 
Step 2
You can edit your payment details or view your past invoices on the lower half of the main billing page.
Step 3
If you want to update your plan, click Update plan at the top. Some plans require you to speak with a sales representative prior to transitioning.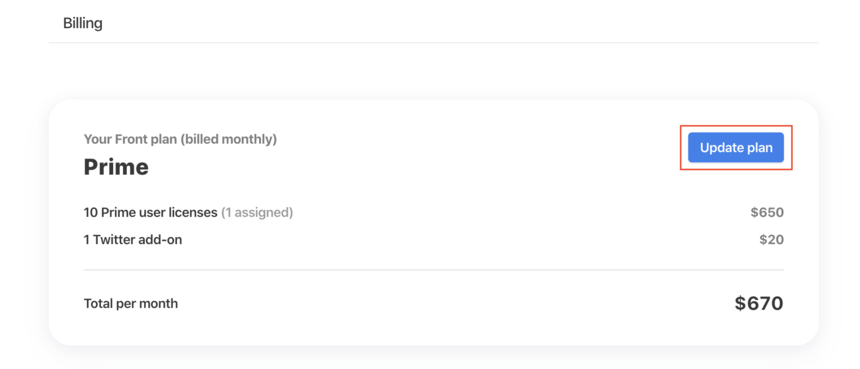 Step 4
If you need to cancel your subscription, follow these steps.
---
Remove blocked or deleted users from your bill
When you block or delete a user, you may also want to reduce the number of licenses on your account, so that your bill reflects your number of desired licenses. You can remove a license while blocking or deleting a user from the Teammate page, but if you choose to do so afterward, you will need take action in Billing.

Follow the steps below to update the number of paid licenses on your account after deleting or blocking users in Billing.
Step 1
Click into your Settings and Billing under the Company section. 
Step 2
Click Update plan at the top.
Step 3
Click on the minus sign until you have the number of licenses you need. You will see the Bill summary on the right side adjust automatically to reflect your new total.
Note: Front has a 2-user minimum on all plans, as Front is built to be a collaboration platform and offers the most productivity when multiple teammates use the tool.
---
Update your billing information 
If you need to adjust the email address that Front sends invoices to, the contact information displayed on the invoice, or your Tax ID, you can do so from within the app.
Step 1
Click into your Settings and Billing under the Company section. 
Step 2
Click Edit next to the Payment Details card.
Step 3
Navigate to the relevant field you are looking to change using the side menu. After making edits, you will need to Save.