Front's iOS app
Overview
Stay up to date and communicate with your team, even when you don't have your computer handy. Use the Front iOS app to respond to your customers, collaborate with your team, and work happier!

To download the iOS app, visit this link, or go to the App Store.
---
Settings
If you open the navigation panel, you'll see a gear icon for Settings at the top right. From there, you can set:
🔕  Out of office: All notifications will be turned off, and new messages assigned to you will be unassigned
🌙  Do not Disturb Notifications: You can choose from among receiving all notifications, turning  on Do not Disturb, or setting a Do not Disturb schedule.
🕓  Time formatting: By default, we show relative time (2d, 2h) for timestamps in the iOS app. Switch on absolute time if you'd like the timestamps on your iOS app to show the full date and time. You can also enable 24-Hour Time.
🌴  Vacation responders: Create and adjust your vacation responder settings on the mobile app. You'll need to add an individual inbox in Front in order to use this feature. This setting can be also adjusted on Front's desktop app and web browser version. 
3️⃣  Badge counter: You can turn on or off the app icon badge counter. You can also choose if you want your inbox counter to reflect My Inbox, or all items in the team section of your sidebar.
↔ Swipe actions: Assign one of the following actions to your left and right swipes on conversations- None, Archive, Trash, Mute, Read, Snooze, Star.
✉️  Quick reply: The quick reply composer is a half screen modal that is shown by default when replying to a message. It optimizes for short, text only replies. If you'd like the full screen composer to be presented every time you reply to a message, turn this off.
---
Push notifications
To choose which push notifications you want to receive on your iOS device, you need to use either the Front desktop or web app. From there, click the gear icon at the top right → Personal Settings → Notifications. You can set Basic Notifications by selecting either All, Smart, or None under the Mobile section. You can also set Advanced Notifications for your mobile app. Visit Notification Settings for more information. 
The iOS app does offer push notification quick actions. You are able to Comment, Mark as Read, or Archive from your push notifications, so you can easily triage your Inbox while you're on the go.
---
Mobile vs. desktop app
The iOS app is meant to enable you to read and triage your inbox while you're on the go. It focuses on workflows that help you to be responsive and productive from your iOS device.
The iOS app does not support some advanced features that the desktop app supports, including but not limited to:
Onboarding for new users
Full set of personal settings
Sending images inline
Settings for message templates, signatures, inboxes, or rules
Analytics
Sequences
Full contact manager
Changing the default send button
Edit/rename/delete/archive private and shared tags
See here for more details on mobile reminders.
---
Send button
To select a sending option, tap on the arrow on the top right corner of your draft to select either: Send, Send & Archive, Send Later, or Send & Snooze. 

If you'd like to change your default send button, this can be updated on Front's desktop app or web browser version by following the steps here. When you press Send in the quick composer on the app, it will use the default send button set in your preferences.
---
Attachments
For new messages or replies, you can tap on the paperclip icon in the keyboard toolbar. For comments, you can tap on the plus (+) icon on the left side of the comment bar.
---
Discussions
Open the navigation panel, then tap Discussions
Access your discussions from the following views: Open, Archived, Snoozed, Trash
Start a new discussion using the pencil icon at the bottom right
---
Tags
To add, remove, or view all tags, you can open the Tags view by either:
View tags: To view tags in a conversation, tap on any tags listed underneath the Subject of a conversation
Add tags: Tap on the 3 dot overflow menu in the toolbar (top right corner) within a conversation and select 🏷 Tags. Search and click on the tag name to apply the tag to that conversation.
Remove tags: Uncheck the tag under the "added tags" section
At this time, you cannot edit tags on Front's mobile app.
---
Sorting conversations
 Use the sort icon next to your inbox filters to choose the order your conversations are listed.
---
Multi-select conversations
Long press on any conversation, then select multiple conversations to take action on. The main multi-select actions are Archive and Snooze.
More actions are available by clicking the three dots (...) next to the Snooze icon: Delete, Star, Mute, Assign, Move to, Tags, Mark as read, Spam, Merge.


---
Multi-select inbox filters
Long press any of the conversation status filters (Open, Archived, Snoozed, etc.) in an inbox to view conversations from more than one filter in a single list.
---
View participant status
Tap the profile icons for the participants above the subject in a conversation.
Names and read status will be listed for all participants.
Users that have not read the conversation will be grayed out.

---
RSVP to calendar invites
Tap Yes, Maybe, No, or Send note to respond to calendar invitation emails.
---
Share to Front from third-party apps
Tap the share button from any app to see the Front app logo in the selector pane. Click on the video below to see an example.
---
Set Front as your default email client
Front will automatically open a new draft when you tap on an email address.
To enable this on your iOS device, go to your Settings app and navigate to the Front app settings. Under Default Mail App, select Front.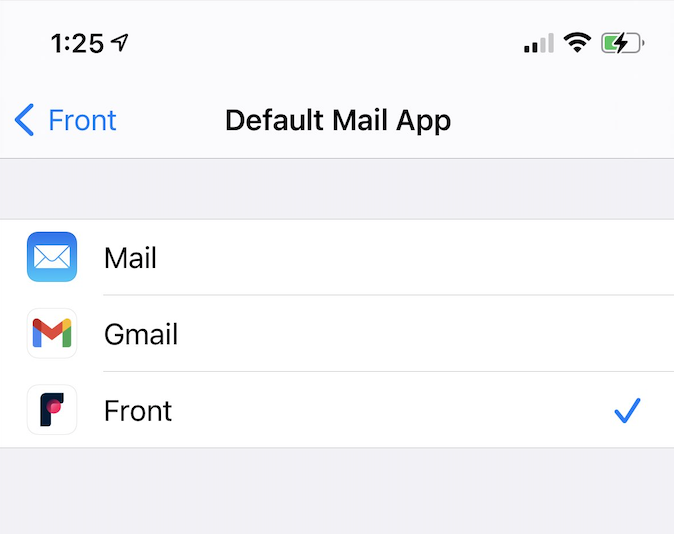 How it works
Step 1
Tap on an email address on your iOS device (this could be on your mobile app web browser, such as Safari).
Step 2
You'll see a prompt asking to open in Front. Tap Open. 

Step 3
Front will automatically open a new draft when you tap on an email address


Note: Apps can sometimes override your default email app behavior (for example, tapping email addresses in Chrome will open the Gmail composer).

This feature works best on iOS 14.2 and above.
Hello! One of the things I really appreciate about the iOS app is that it provides instant notifications when I get messages through Front-- often faster than I receive an email notification, for example, via my email app. In the last week or so, these notifications seemed to have disappeared. I've checked that all notification settings (on my phone and in the app) are the same as they always were. Any advice about what I'm missing, or whether there is an issue here that's being addressed on your end? Thank you!

The app is so far behind Outlook or even the standard iOS mail app. Atleast fix the calendar integration so you can't accept meetings on the fly and the badge count so it resets the first time.