Working with Support at Front
Overview
When working with the Support Team at Front, you may be asked for a few common pieces of information to help our team find answers for you faster. Send this information to us through our contact form!
---
Conversations
Conversation ID
The conversation ID is helpful in most cases - it helps us look up that conversation in our admin tools, and check associated information. For privacy purposes, we are not able to access any information in your account without an ID provided. You will need to click on the three dots at the top of the conversation and copy the conversation ID from that menu:
Message ID
A message ID is helpful when you are experiencing issues with a specific message. It is particularly useful when you are working with a long conversation thread containing many messages. You can access a message ID by clicking the three dots in the top right corner of a specific message: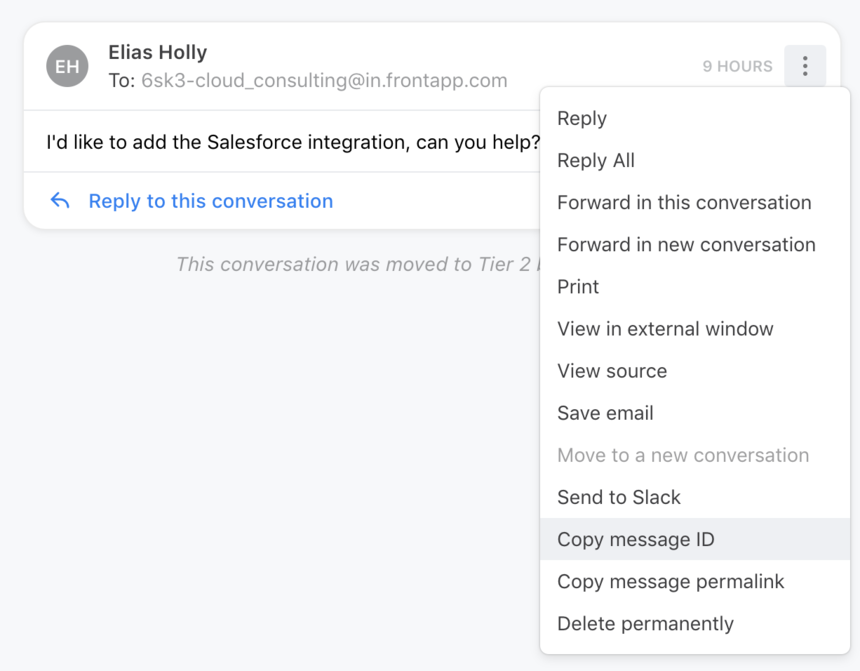 ---
Inboxes and channels
Your Support representative may request the name of the inbox or channel you require assistance with. This will help them quickly identify any problems caused by permissions, or issues with the channel itself.
---
Teammate name or email address
When reporting issues that are specific to one Teammate, let us know the name or login email address for that Teammate. 
---
Screenshots 📷
If you're experiencing unexpected behavior or receiving error messages, sharing screenshots or screencasts of the issue in action is very helpful! It can help clearly describe the issue you are experiencing to your Support Agent, and often help them quickly identify the cause of the issue.
---
First time's the charm
At Front, we pride ourselves in our efficiency without sacrificing quality, so we ask that you only submit your request one time through our contact form. This will help us work through the request as quickly as possible without needing to look in different threads for context if another support teammate has already started work on it or responded. Too many hands in the cookie jar is not always a good thing 🍪 If you have reason to believe we did not receive your email, feel free to follow up.