Attaching images and documents to an email
Overview
When you need to send an image or document over Front, there are three ways to attach the file to your email.
---
Instructions
Drag and drop
You can drag and drop any image or document from your computer into your email composer. It will paste where your cursor is placed.
Copy/paste
You can copy/paste files from various desktop sources into your email composer. This option is only available on Front's desktop app.
Select the paperclip
When you're composing an email, select the paperclip to attach from your computer, Dropbox, or Google Drive.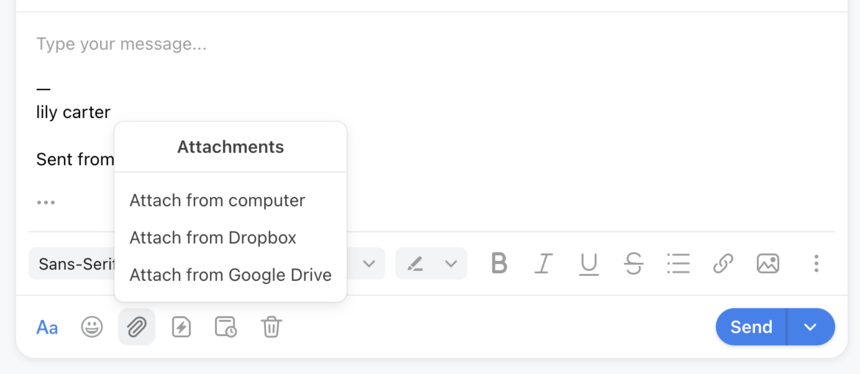 ---
FAQ
Are there file size limits?
Check out Front's attachment size limits here.
Error: This channel only supports 100 attachments
Front has a maximum attachment limit of 100 files per email. If you are seeing this error and your message does not contain 100 files, they might be included in the previous message content in your draft.
You can remove the previous message content by clicking the 3 dots below your message, then the X icon.
Could I ask why if I want to insert an image (.gif) to the email body, it has to be a URL?
Sometime when I drag a file over from my computer into the body, it doesn't display on the receiving end

Allie, what type of channel are you composing the message from?

Cori Morris It's a team email channel

Allie Huang Ok, dragging and dropping a .gif into an email should work just fine. Could you please email me at team@frontapp.com so we can look into your specific case?

Cori Morris This feature tends to be quite buggy. I tried in the mac app as well as the online interface, and it doesn't work. (it used to previously.) I tried various times and in various ways... could it be down temporarily?

Simon, what exactly is not working properly?

Cori Morris When I want to paste an image in to the e-mail body im writing - the image just pasts to the bottom of the e-mail like any type of attachment, in stead og staying in-line with the text im writing.
I am om a new Mac i Chrome.

Simon P Ok. What kind of file is the image you're trying to paste? Also, are you using the web or desktop app?

Cori Morris a PNG (sceendump). Also I can see that the formatting with cells doesn't work when copying from Google Sheets. This also used to work just fine...

Simon P We've tried .png, .gif, and pasting screenshots, and they all work. Can you please send us an email and we'll dig a bit deeper into you're specific case? Also, make sure you're using the newest version of the app.

Cori Morris As I said I tested the browser version as well as the Mac app. I can see it is working again. I guess it was a bug that you fixed?

 

Simon P Nothing was fixed, but I'm glad it's working!

Cori Morris Here's what we want to do. We send tutorial responses to our customers and want to include animated gifs in-line of body text. Sometimes we can copy and past them in and it works, sometimes it doesn't.

Isn't there a way we can embed them straight as a file from our computer, we don't have an efficient way to convert files to URLs that work. Sometimes it does, sometimes it doesn't.

That is, I have tried dragging from my desktop folder directly to the message, and it still doesn't work. Will send email!

 

A different topic, but also attachment-related: When we drag files into an email, the image files always seem to be embedded, and all others are attached. Attachments is what we want, so can you confirm that attaching files via drag and drop is actually not working for image files (we have tried this with jpegs)? 

And further to my comment: Since attaching via drag & drop is quicker than selecting via the paperclip and file explorer, we would prefer if all files could just be attached via drag & drop.

Hi @chris_d When you drag and drop an image into Front's composer, the default behavior is to display that image. If you want to attach that image, without it being displayed inline, simply hold down the 'Alt' key on your keyboard while you drag the image into the composer.

Ah, that is awesome! Thanks for that! :) 

  Urszula I tried this on the front app for mac and holding the alt button didn't work. It still displayed in the body of the email