How to set up an Instagram inbox in Front
Edited
Overview
Front's Instagram channel allows you to connect an Instagram Business Account to receive and send direct messages (including Story Mentions and Story Replies) and comments directly from Front.
You can connect multiple Instagram business accounts to Front as separate channels. The channel does not support Instagram "Creator" accounts. 
---
Instructions
Before proceeding, ensure you have access to an Instagram Business Account that is connected with a Facebook Business Page. Non-business accounts cannot be connected to Front.
Step 1
Click the gear icon on the top right of Front and select company, Workspace, or personal settings in the left sidebar, depending on the space you're working with.
Step 2
Click Inboxes in the left menu and create a new shared inbox or individual inbox.
Step 3
Click Channels in the left menu, then click the Connect a channel button.
Step 4
Under Messaging, choose Instagram and click Connect and then click the blue Connect to Instagram button on the next screen.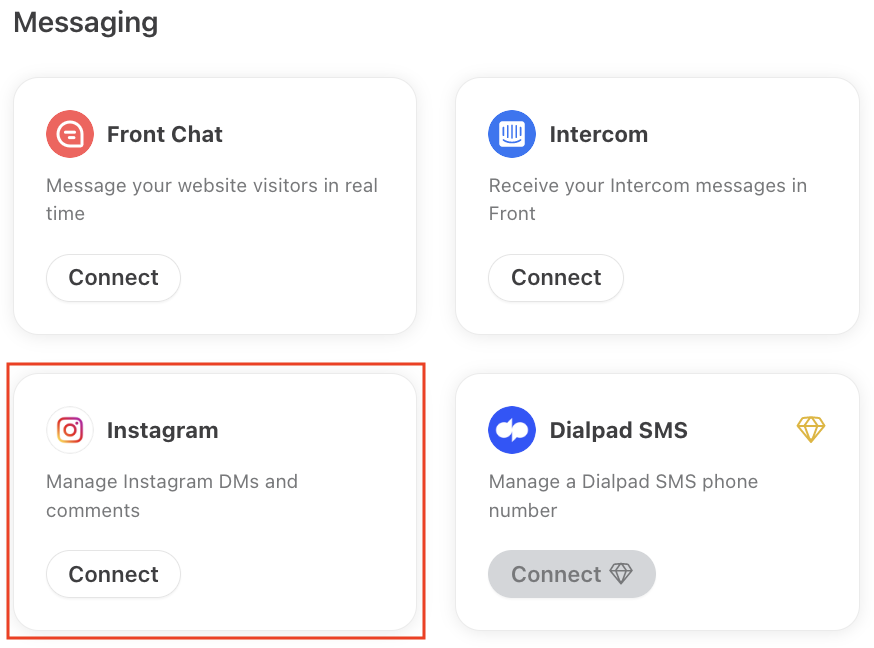 Step 5
A window should open prompting you to sign in with a Facebook Business account. Make sure you log in with your Facebook credentials here (not Instagram).
Step 6
You should see a page that asks which Instagram Business Accounts you want to connect to Front. Select one of these accounts — you can connect other accounts in a separate channel by repeating these steps afterward.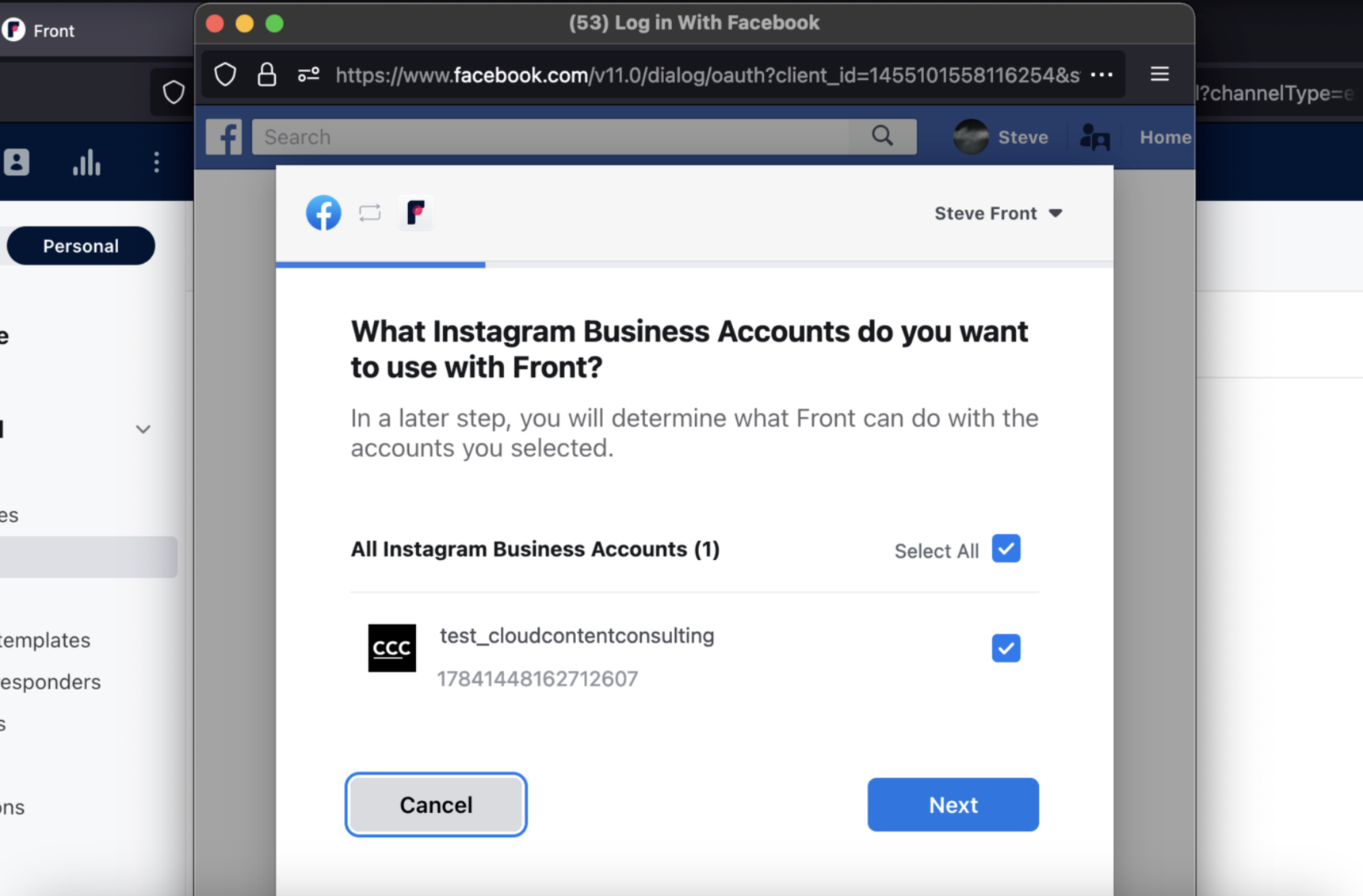 Step 7
Next you should see a page asking which Page to connect. Again, select only one Page. The next step will ask you to approve permissions that Front will require to connect to your account.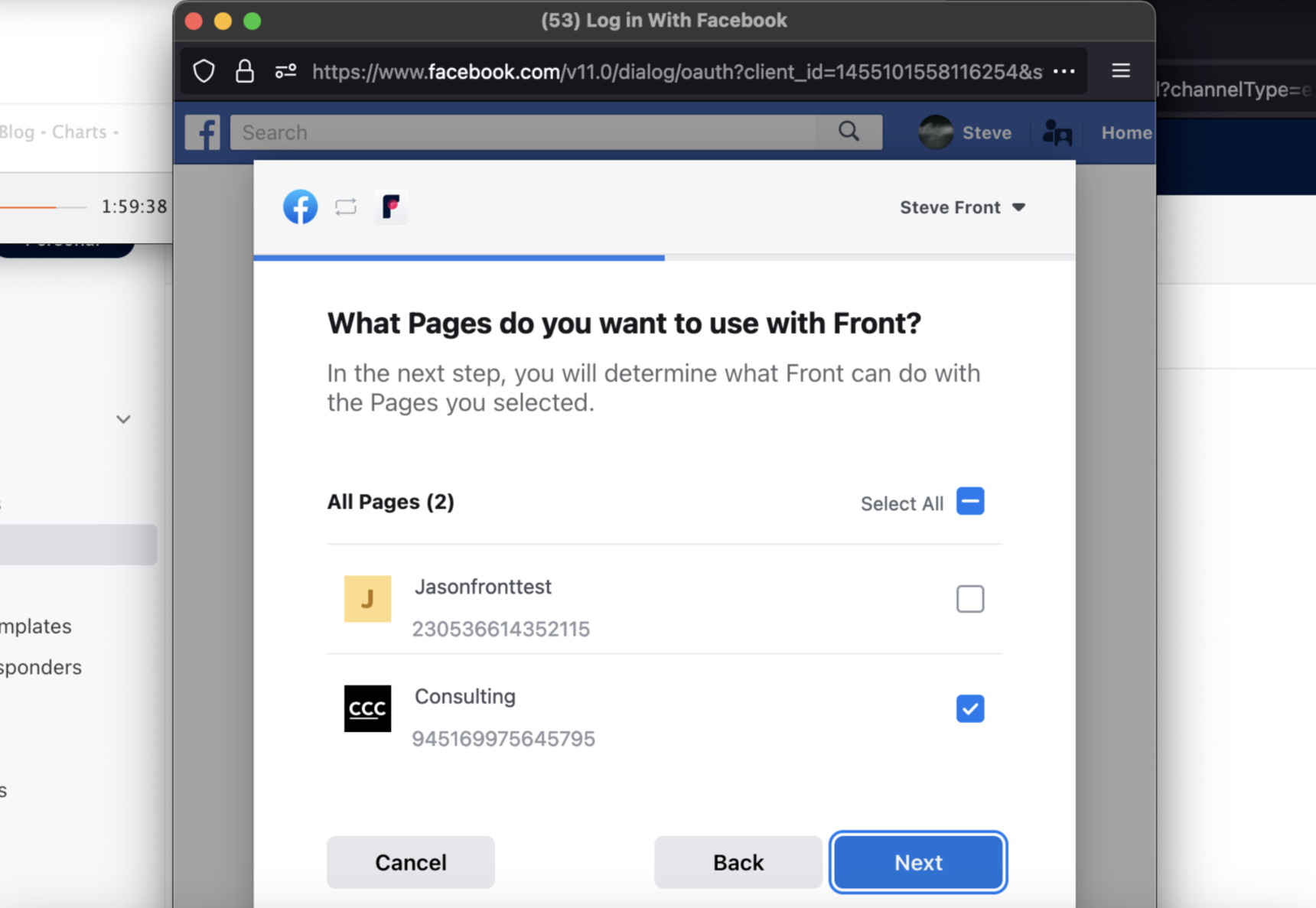 Step 8
After successfully authorizing with Facebook, you'll be redirect to a final page to select the Page to connect to Front. Simply click on the page and then click Submit.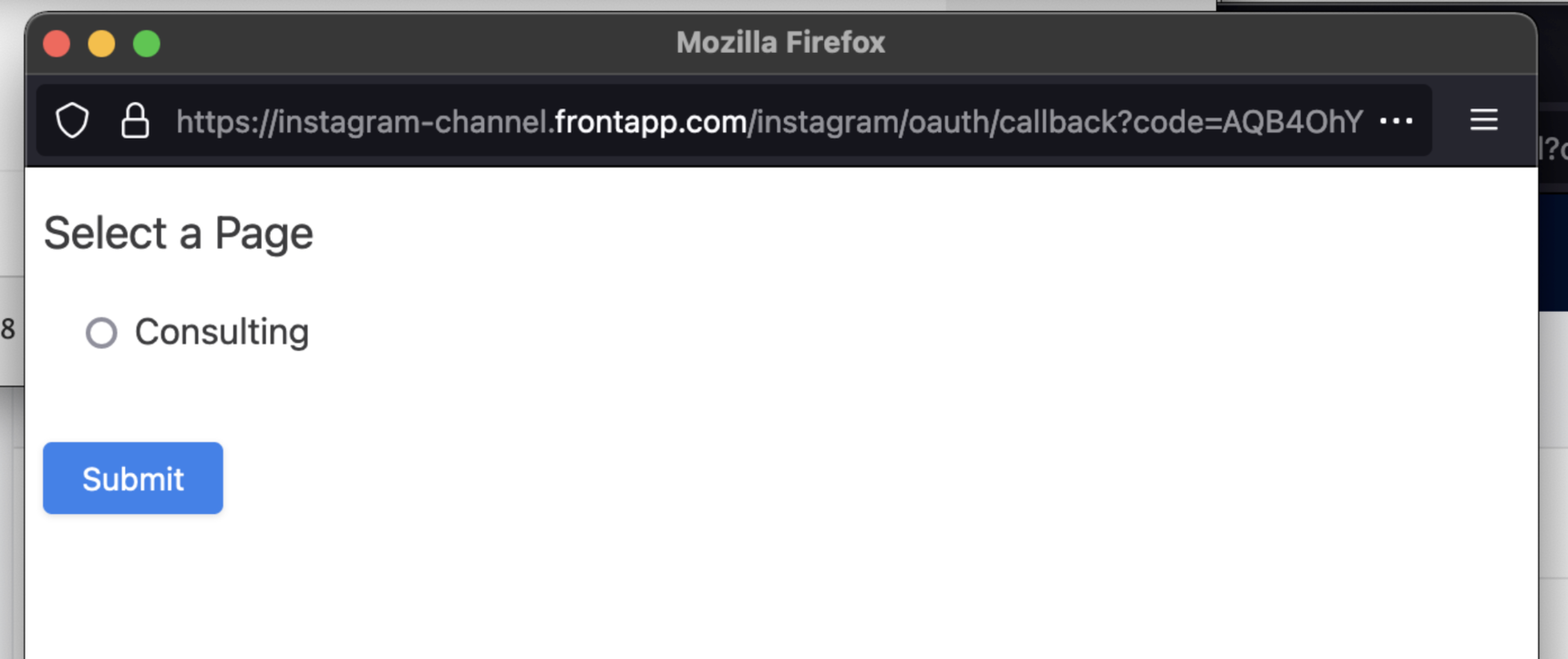 Step 9
Choose the inbox that conversations will route to and click Save.
Step 10
Once the channel is successfully created, it will have the default name of Instagram. You can optionally rename it to whatever your Instagram handle is, e.g., @acme. 
---
How it works
Message support
The channel supports the following:
Receiving direct messages, including those with media attachments like GIFs and audio recordings, as well as Story Mentions and Story Replies

Pending DMs are also received in Front. You do not need to accept a pending DM to make it appear in Front.

Replying to direct messages, although only plain text replies and emojis are currently supported (no attachments)

Receiving and replying to comments on your business's posts, or comments that @ mention your business on other posts

Messages that are deleted/unsent in Instagram will be automatically removed from Front as well. However, messages deleted in Front do not automatically get deleted in Instagram.
The channel does not support the following:
Historical import of messages. Only new messages/comments will arrive in the inbox after it is connected.

"Hearting" messages

Facebook quick replies (although Front's message templates can be used instead)

Sharing of other Instagram posts via DM that are not Story Mentions or Story Replies
Threading
Direct messages with the same person will thread into the same conversation in Front. This includes Story Mentions and Story Replies.

A separate conversation in Front will be created for each comment thread on a post
---
Troubleshooting
If you're not able to connect your Instagram account to Front, ensure the following:

1. The Instagram account you are connecting is a business account, not a creator account. Creator accounts are not fully supported by the Instagram Messenger API yet, so the Front channel does not support them yet.
2. Ensure that the Instagram account you are trying to connect is linked to your business' Facebook page. In the Page Settings for your business page in Facebook, if you click the "Instagram" tab you should see the Instagram account connected.
3. On the Instagram account, make sure that the "Allow Access to Messages" setting in your Instagram account is enabled by following the steps here. If you enable it, make sure to remove and re-add the channel in Front.
4. During the channel authorization process, when the Facebook popup appears, click "Edit settings" and ensure that all scopes are enabled.
---
FAQ
How can I sync only DMs and not comments?
At this time, when you connect a particular Instagram page Front will automatically import all DMs and comments, and there is no option to skip importing one or the other kind of message.
However, you can create a Front rule that will automatically filter out all comment messages by using the following structure: "WHEN Inbound message is received, IF Conversation comes from [Instagram channel] AND Subject Contains "commented on your", THEN Archive conversation."
Why is my channel receiving messages from my other Instagram businesses?
If the channel was previously connected to one Instagram business, but was re-connected to a different business via the reauthorization flow in the channel's settings, it can sometimes continue getting messages for the prior business. If you need to connect a Front channel to a different Instagram business, we instead recommend creating a brand new Front channel rather then repurposing an existing one.
---
Pricing
This feature is available on all plans.