Ways to create and sign into your Front account
Overview
When you sign up for a new trial or join as teammate in a company, you have a few different ways to sign in:
Use your existing Google or Microsoft login for Front. Our OAuth method allows you to seamlessly log in with your existing Google or Microsoft account.
Create your own email and password login for Front.
SSO, which would be set up by your company's Front or IT admin.
---
Google or Microsoft login
Using your Google or Microsoft login is helpful because it will automatically set up and import your private inboxes into Front for you! 
Step 1
When you first sign up, you will see the option to use SSO, Google, Microsoft, or your own email address.
Step 2
Click the method you want to use, such as Sign in with Google.
Step 3
You will see a list of Google accounts to choose from. Select the one you want to use to sign up with. This will be the account associated with Front.
 If you don't see the account you want to use, click Use another account.

Step 4
You will then be asked to allow Front access to your account. Click Allow to confirm.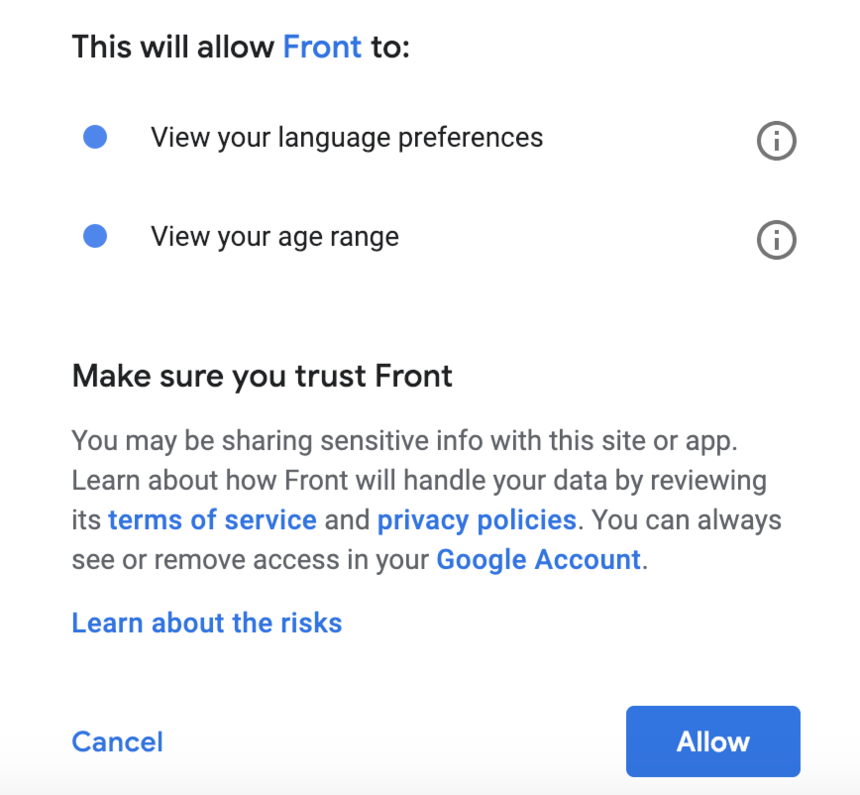 Note: We ask to access this basic information from your Google or Microsoft account so that we do not need to ask it again when you set up your Front account.
Step 5
You will walk through a few onboarding screens to start setting up Front.
Step 6
You will land in the Front dashboard and see that your private inbox has already been added!
---
Front email and password
Step 1
When you first open Front, click Sign up for free.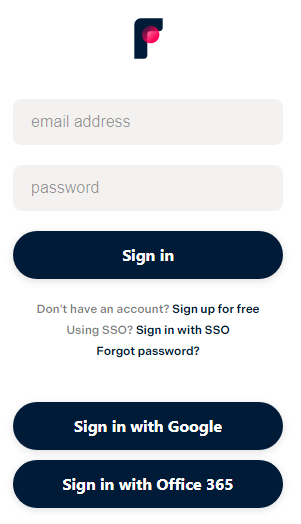 Step 2
Fill out the form with your work email and your password, as well as a phone number.
Step 3
Verify your email by typing in the six-digit confirmation code:
Step 4
Walk through the onboarding screens to continue to Front!
---
SSO
This is a sign-in method set up by the company to standardize the login for all tools the company uses. You can learn more about the setup here.
---
FAQs
I forgot my password, how can I reset it?
On the login screen, you can click Forgot password? and enter the email linked to your account to receive a password reset email.
How do I change my Front login email?
Follow the steps in this help center article to change your login email.
How do I change my login if I use OAuth?
Please contact our Support team and we can disable the OAuth binding in order to allow you to change your login email. You can then reenable this at the login screen if you'd like.
---
Pricing
All Front plans allow teammates to leverage the sign in with Google/Microsoft methods or use email/password login. 
SSO is available only on the Enterprise plan or above. Some legacy plans with different names may also have this feature.