How to enable and use the Jira integration
Overview
Like other integrations, you need to be an admin in order to enable the Jira integration for the first time, but once enabled it can be used by any teammate.
The Jira integration allows you to link new or existing Jira issues to conversations in Front. There are a few key benefits:
Once a Jira issue is linked to a Front conversation, you can easily access it directly from Front
When a Jira issue is attached to a Front conversation, a link back to all related conversations in Front will be added to the description of the Jira issue
When the Jira issue is completed, linked Front conversations will automatically reopen to allow you and your teammates to follow up with any updates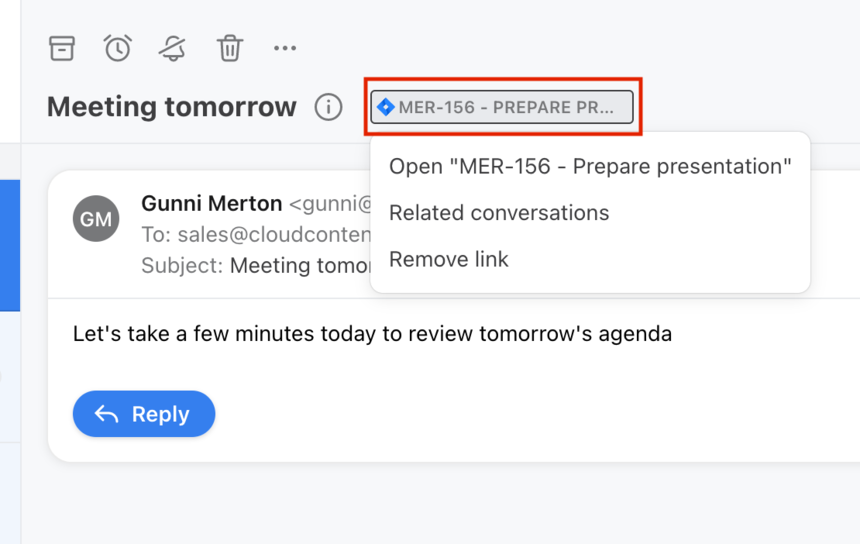 ---
Instructions
The instructions below are for enabling for Jira Cloud. If you use Jira on-premise, see section below.
Admin steps
Step 1
Click the gear icon on the top right of Front and into the Company settings tab, and select Integrations from the left menu.
Step 2
Select Jira from the list of integrations. Click to the Settings tab and turn the toggle to enable the integration. 
Step 3
If you'd like to reopen conversations after a tagged Jira issue has been closed, then click the Sign in to Jira button. You will see the following screen to sign in with your API token:
This step requires a Jira admin to log in to enable the integration for the company. You will need to enter your Jira base URL, which is a unique URL to access your company's Jira database. It should be in the format of: something.atlassian.net
Your login username is the email address you signed up with, and the password is an API token you must create in your account settings. If you use SSO with Jira, your password is also the API token.
Note: When authenticating the Jira integration, Front attempts to add a webhook subscription for Jira issue updates. This lets Front know when Jira resolves an issue. If Front is not reopening closed issues, please check with your Jira admin to see if a webhook to frontapp.com exists in your Jira settings. It may be necessary to re-authenticate on Front's side with a Jira admin that is able to create webhooks through the Jira API.
Step 4
Click Save to finish enabling the Jira integration.
End-user steps
Step 5
Go into your Front workspace view. On any conversation, click the tag button and select Jira issue.
Step 6
The first time you use the Jira integration, you will be required to sign in to Jira from Front using your preferred method of logging into Jira. You will see the sign-in screen below, where you can select how you want to log in:
You can sign in with your Jira email, or use a Google/Microsft account:
If you want to Sign in with an API token, Step 3 above for details.
Step 7
Now, you can use the tag menu to create a new Jira issue to attach an existing issue by toggling between Open a new issue or Attach to existing.
Step 8
Once you've attached the issue, you will see a tag at the top of the conversation linking to the issue in Jira. Click the tag to see more options, such as opening the to the issue within Jira.
---
FAQ
What if we use Jira on-premise instead of Jira Cloud?
There are 2 options for you: you can either create API tokens or set up an OAuth application for yourself. 
API Tokens: First try creating a token through the Atlassian portal. If you have any issues, we would suggest following Atlassian's guide on creating basic or OAuth tokens. Once you have generated an API token according to that guide, continue to log in to the Front JIRA integration with your JIRA host address, email, and this token.
OAuth Application: This will be more in depth. See this help article for more information.
Does the integration support custom fields?
No, the Jira integration does not support custom fields at this time.
Xavier Dorémus Sure! Could you send us an email with the Conversation ID that has the JIRA issue/tag on it?

Hello Cori Morris - all my Jira tickets created in Front are put by default in the backlog section and not in the tableau section on my Jira's board project.

Do you know why? Any way I can change that? I don't see where I can edit this neither on front when creating the ticket, nor in front's integration settings. 
thanks

Harsh Goenka Thank you so much for reaching out around this! Always love and appreciate the feedback :) With it we have relayed it to our product team to help us improve our Jira integrations. If you have any other feedback or notice anything around Front or our integration please let us know at support@frontapp.com

Hi Haley McGill another issue I am facing is that when the Jira issue status changes to 'Done' the archived Frontapp conversation connected to the Jira issue does not open automatically. From conversations above I see that this was a bug that was fixed 3 years ago, but I still face the same problem. Are you aware of any known issues?