How to enable and use the Jira integration
Overview
The Jira integration allows you to link new or existing Jira issues to conversations in Front, and browse issues without leaving your inbox.
You must have Front company admin permissions to set up the integration. Once enabled it can be used by any teammate.
---
How it works
There are a few key benefits:
You can perform common actions, like creating new issues or browsing existing ones, without leaving your inbox
Once a Jira issue is linked to a Front conversation, you can easily access it directly from Front
When a Jira issue is attached to a Front conversation, a link back to all related conversations in Front will be added to the description of the Jira issue
When the Jira issue is completed, linked Front conversations will automatically reopen to allow you and your teammates to follow up with any updates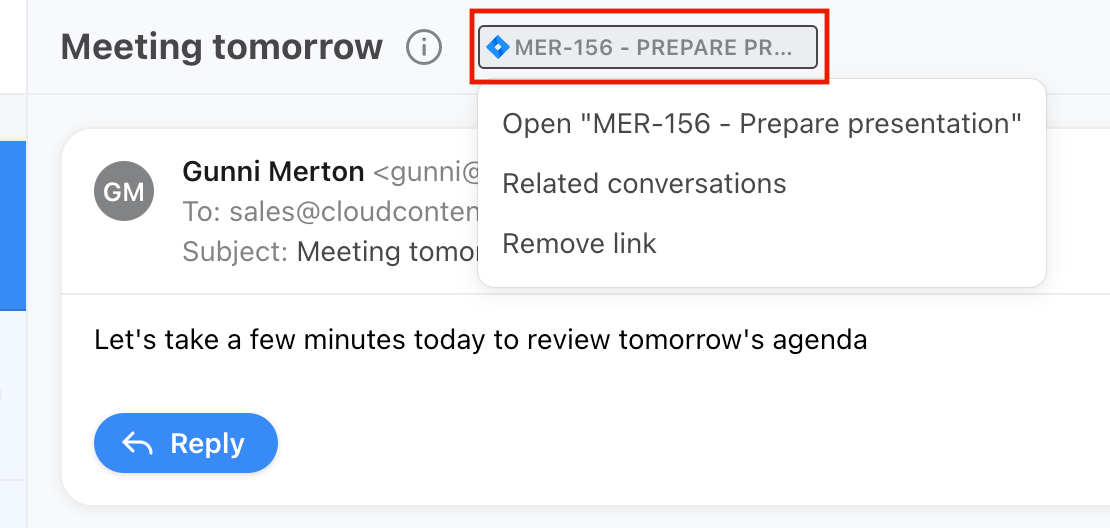 ---
Instructions
Admin steps
Note: If you were already using the legacy version of the Jira integration, you do not need to re-enable the new version (it will be automatically enabled for you).
Step 1
Click the gear icon on the top right of Front and into the Company settings tab, and select App store from the left menu.
Step 2
Select Jira from the list of integrations. Click See details, then click Enable app.
Step 3
If you'd like to reopen conversations after a tagged Jira issue has been closed, then click the Sign in to Jira button. Otherwise, click Save then Start using this app to navigate to the app switcher in your sidebar.
Step 4
You will see a pop-up window to sign in with your API token. This step requires a Jira admin to log in to enable the integration for the company. Fill out the fields:
Jira URL: You will need to enter your Jira base URL, which is a unique URL to access your company's Jira database. It should be in the format of: companyname.atlassian.net
Email address: The email address for your Atlassian account
API token: An API token you must create in your account settings. If you use SSO with Jira, your password is also the API token.
Note: When authenticating the Jira integration, Front attempts to add a webhook subscription for Jira issue updates. This lets Front know when Jira resolves an issue. If Front is not reopening closed issues, please check with your Jira admin to see if a webhook to frontapp.com exists in your Jira settings. It may be necessary to re-authenticate on Front's side with a Jira admin that is able to create webhooks through the Jira API.
Step 5
Click Connect to Jira to finish enabling the Jira integration.
End-user steps
Step 1
From your Front inbox, find the Jira icon in the right sidebar of Front. If it hasn't been added to your sidebar app switcher yet, click the Manage icon at the bottom of the sidebar and make sure that Jira has been pinned. Once you've pinned the integration, you can drag its icon to position it where you prefer.
When you first open the plugin, you'll see a sign in screen where you'll be asked to enter your Jira credentials.
Step 2
Once you've logged in, you'll want to first configure the default project and issue type, as well as any fields you want to use. Click the gear icon in the top right of the plugin, and then set your preferences before clicking Save at the bottom.
Once you've saved your settings, you can proceed with any of the following actions:
Creating new issues
To create a new issue, click Add issue in the This conversation tab. Select the desired Project, and then New issue. You'll see a form that includes the fields you configured in your settings. Enter the desired attributes then click Create. 
Searching and attaching existing issues
Click the Search tab, select the desired Project to search within, type an issue name and press Enter on your keyboard. You should see a list of all matching results. Click on any result to see the full details of the issue, or use the three-dot icon to access other options like attaching the issue to the current conversation.
Once an issue is attached to a conversation, you'll find it in the This conversation tab.
---
FAQ
Does the plugin support custom fields? Which custom fields does it support?
Yes, the plugin supports custom fields. They can be configured in the settings accessed via the gear icon in the top right of the plugin.
What if we use Jira on-premise instead of Jira Cloud?
This version of the Jira plugin does not currently support on-prem instances of Jira.
Hi there, I have trouble using the "Reopen front conversation when JIRA is closed" feature. How does it work exactly? Does it work with a specific status name (like CLOSED or DONE)? Thanks for your kind help :)

Xavier Dorémus Hi! When you close an issue in JIRA, the conversation associated to that issue should automatically reopen if it was archived. Does that make sense?

Cori Morris Hi Cori! It does make a lot of sense, but it doesn't seem to work... I tried a lot a possibilities, but no message comes back to the inbox when I close the related issue. I don't even know where to start, could you please help?

Xavier Dorémus Sure! Could you send us an email with the Conversation ID that has the JIRA issue/tag on it?

Cori Morris E-mail sent! :) Thanks!

My problem has been fixed (quickly and nicely) by Front (it was a proxy problem on their side).

Hello - I have integrated front into my JIRA system, however, I would like to know if certain Front messages could be triggered as auto-tags into a queue in JIRA

Holly Clarke Hi there! At this time, there's no way to automate JIRA-related tasks.

Hi! Is there a way to search for the jira ticket number in Front when you've enabled this integration? Searching for "tag:" for example doesn't work, is there another property I can use instead?

Hi Caroline Bryngelson ! This tag isn't searchable, you can search for existing JIRA(s) within the plugin though by clicking on the JIRA plugin tag and searching within in it by toggling attach to existing issue to see find the JIRA number. Hope that helps!

Hello Cori Morris - all my Jira tickets created in Front are put by default in the backlog section and not in the tableau section on my Jira's board project.

Do you know why? Any way I can change that? I don't see where I can edit this neither on front when creating the ticket, nor in front's integration settings. 
thanks

Hi majelan please contact us via the help center form and our team will take a look. thanks!

Hi, I'd like to vote to extend the Jira integration to also support custom fields. Without custom fields the feature of creating issue from Jira is not helpful at all for us.

Harsh Goenka Thank you so much for reaching out around this! Always love and appreciate the feedback :) With it we have relayed it to our product team to help us improve our Jira integrations. If you have any other feedback or notice anything around Front or our integration please let us know at support@frontapp.com

Hi Haley McGill another issue I am facing is that when the Jira issue status changes to 'Done' the archived Frontapp conversation connected to the Jira issue does not open automatically. From conversations above I see that this was a bug that was fixed 3 years ago, but I still face the same problem. Are you aware of any known issues?