How to save and attach emails as .eml files
Edited
Overview
Front allows you to save a single message as an .eml file or attach it to an email you're sending out. This is a common workflow in Outlook that is also supported in Front. You can also view .eml files natively in Front.
---
Save using drag-and-drop 
You can save email files by dragging them to your desktop, a composer window in Front (Windows desktop app only), or another app.
You can click on the email in your conversation list or on a specific message in your open conversation and drag it out of Front to save it as an .eml file or attach it in another app.
Save using message options
Step 1
Click the message options menu in the top right corner of the message. Select Save...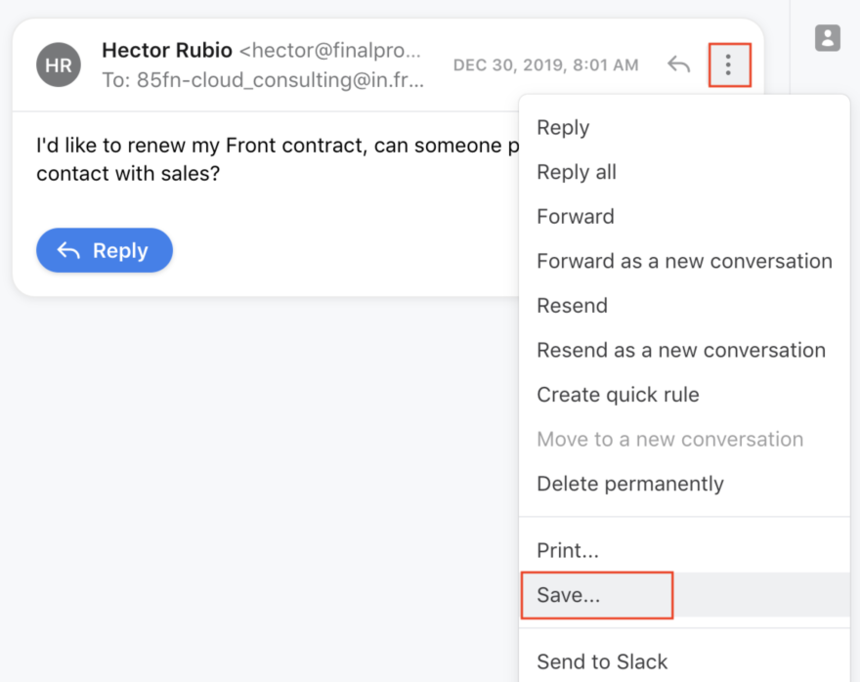 Step 2
Save the file. The file name will default to the subject line of the email, with special characters removed. Your download options depend on whether you're using Front on the web or in the desktop app:
Web: Your file will automatically save to the default download location you have set up in your browser settings (such as your "Downloads" folder)

Desktop app: You will get the Save As prompt where you can rename the file and choose your download location
Step 3
You will see your .eml file in your chosen location. You can attach it to a message via drag-and-drop or with the attachment file picker.
Note: Saving/attaching .eml is not currently supported on mobile.