Calendar in-app reminder notifications
Edited
Overview
Front's in-app calendar reminder notifications are a helpful way to stay on top of your schedule. You can set a reminder time for calendars or specific events and Front will send you a desktop notification before your events. In this article, we'll walk through how to customize notifications for calendar and events.
---
Set default reminder notifications for a calendar
Step 1
Open your calendar by clicking the Calendar icon at the top left of Front.
Step 2
In the calendar list on the left side, hover over the calendar you want to edit reminders for, click the three-dot menu, and then choose Edit.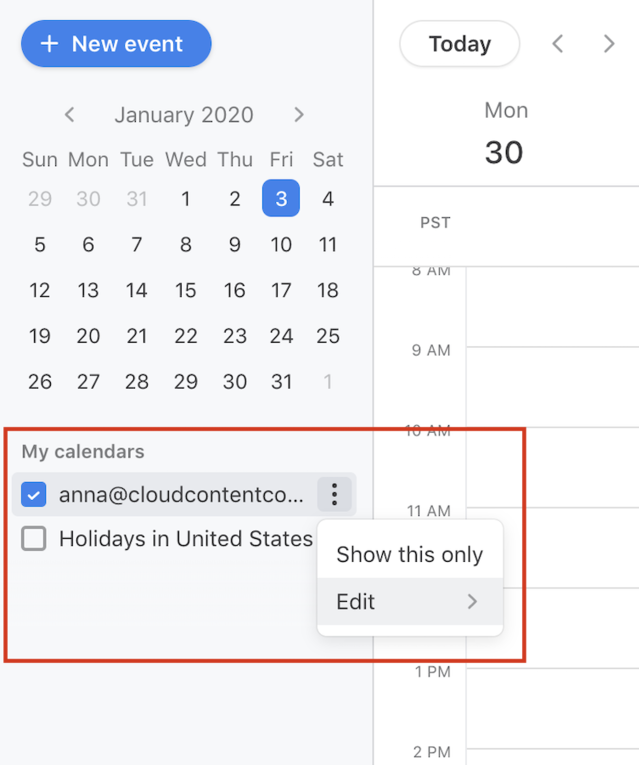 Step 3
From the edit menu, add or remove notifications for this calendar. Front supports up to 5 reminders for a single event and the time of the notification can range from 0 minutes to 4 weeks before the start of the event.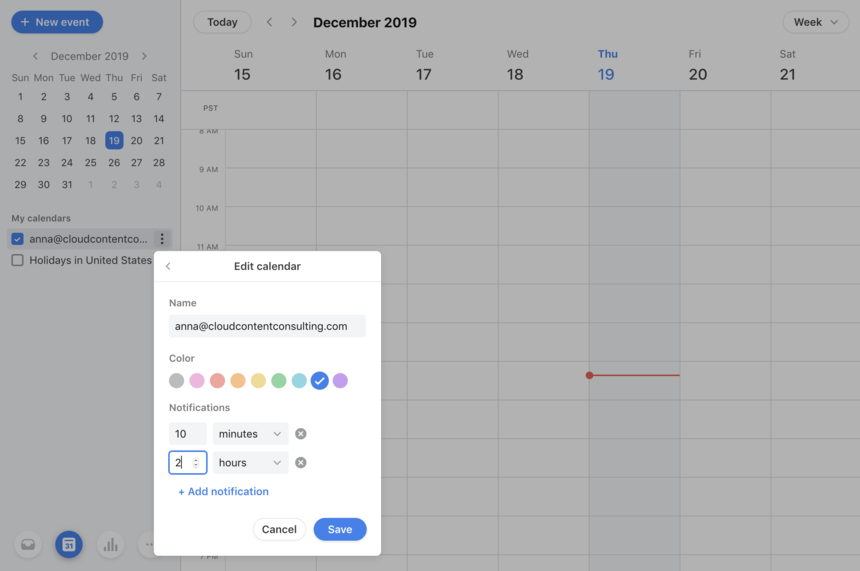 Step 4
Click Save to save your changes.
Note: The default notification settings that you set up in Front only pertain to push notifications; to set up default notifications as email reminders, you'll need to edit the notification settings in Google or Office 365.
---
Set specific reminder notifications for an event
For some events, it can be helpful to have reminders that differ from the default reminder settings of the calendar. Front also supports event-specific reminder overrides, which can be edited when creating or editing a calendar event. Simply open the event and adjust the reminder time.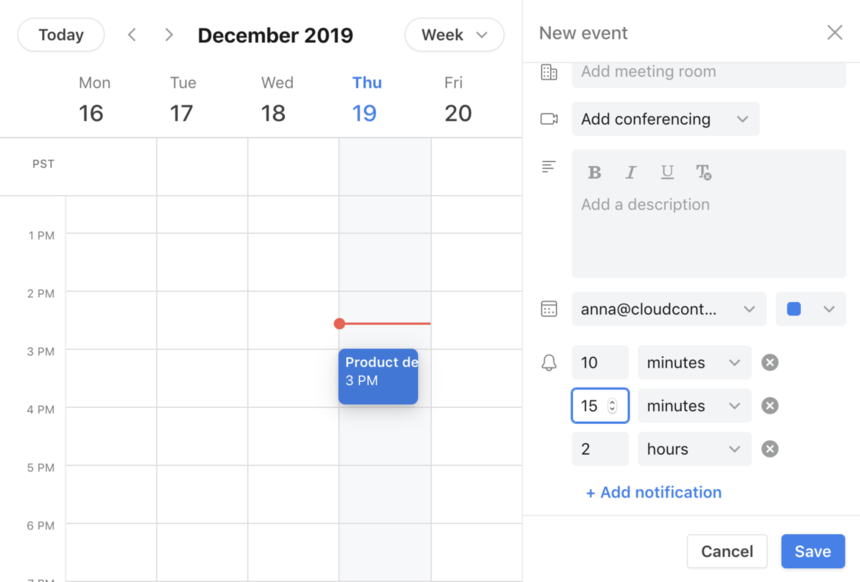 ---
Calendar reminders on mobile
Any changes made on Front's desktop app will synchronize to your Google or Office 365 account and will reflect on your mobile device. Likewise, changes you make in the native calendar or Google calendar app on your device will synchronize back to Front Calendar on the desktop.
To enable or disable calendar notifications in the mobile app, tap the sidebar icon at the top left, then click the gear icon. Under Notifications, toggle on/off Calendar - Reminder notifications.
To view all of Front's mobile calendar features, read more here.
---
Dismiss notifications
Front calendar notification behavior will vary depending on your device and the app you use to log in to Front.
Mac users
Browser:
Google Chrome, Microsoft Edge, Opera: Calendar notifications will stay on your screen until you manually dismiss them

Safari, Firefox: Calendar notifications will automatically dismiss after a short time
Desktop app: Calendar notifications will automatically dismiss after a short time
Windows users
Browser:
Google Chrome, Opera: Calendar notifications will stay on your screen until you manually dismiss them

Microsoft Edge, Safari, Firefox: Calendar notifications will automatically dismiss after a short time
Desktop app: Calendar notifications will stay on your screen until you manually dismiss them