How to enable and use the Translate plugin
📌 Yandex no longer offers a free API key to be used for Front's Translate plugin, so new Front users will not be able to use the in-app Translate tool, unless they are on a paid version of Yandex.
Overview
The Translate plugin allows you to read the translation of a message, and copy and paste custom content in the box to translate additional text.
You must have Front company admin permissions to set up the integration.
---
Instructions
Step 1
Click the gear icon on the top right of Front and into the Company settings tab, and select Plugins & API from the left menu.
Step 2
Click Add a plugin.
Step 3
Enter the name of the plugin. In this case, we suggest Translate.
Step 4
Copy and paste this URL in the Endpoint box: https://ext.frontapp.com/translate.html
Set the SDK Version to Legacy (deprecated).
Step 5
Click Save to finish setting up the Translate plugin.
Step 6
Now you'll need to get an API key from a translation provider. We currently only support Yandex's translation API, so go to https://yandex.com/dev/translate/, and select Get a free API key.
Step 7
If you don't already have a Yandex account, click Registration to create one, and complete the sign-up form.
Step 8
Make sure the User Agreement box is checked, and select Get API key.
Step 9
You should now see the API key. Copy it.
Step 10
Go back to Front and select Translate from the app switcher in your sidebar. Paste the API key from the Yandex website, and click Save.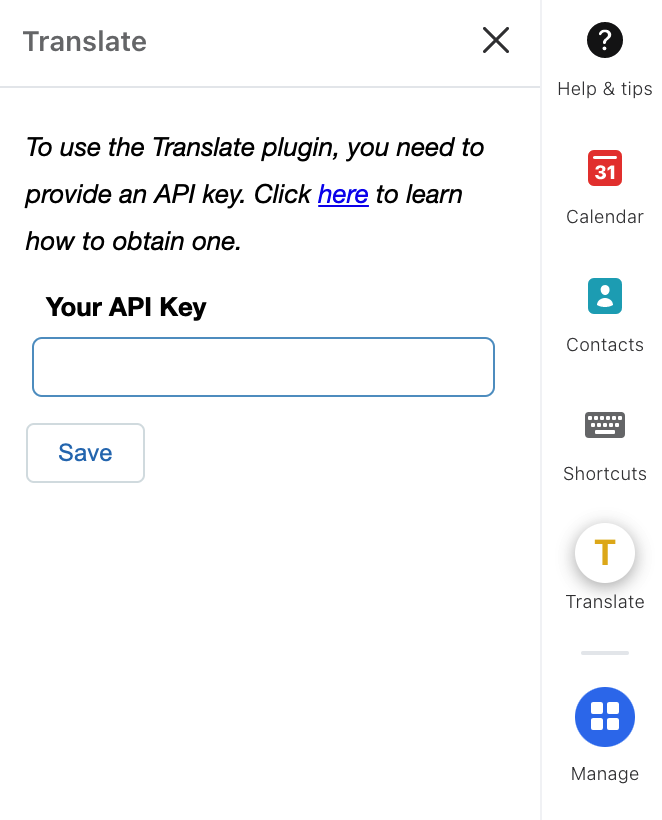 Step 11
You should now see the translation of your message. You can also use the text box at the bottom to translate other text.