Installing Front Chat via Google Tag Manager
Overview
Front Chat is a flexible tool which can be installed in a number of ways. One such way is by installing it as a "tag" via the Google Tag Manager tool. 
---
Instructions
Create Front Chat inbox
Step 1
Create a new Front Chat inbox by following the steps here.
Step 2 
After you have created your Front Chat channel, you will see a Code snippet section in the channel settings. Copy this code to use later.
Add to Google Tag Manager
Step 3
Open up your Tag Manager dashboard, and click into the container you are going to configure this tag in.
Step 4
Click the New Tag panel to add a new tag.
Step 5
Choose Custom HTML as the tag type.
Step 6
Paste the Front Chat code snippet from step 1 into the HTML section of the Tag configuration page.
Step 7
Set the appropriate triggering settings for your Front Chat tag; take a look at Google's About triggers help article to learn more about triggers. In this simple example, we will set Front Chat to be triggered on all pages. Hit Save.
Step 8
Give this tag version a name and optional description, then hit Publish to start publishing your changes.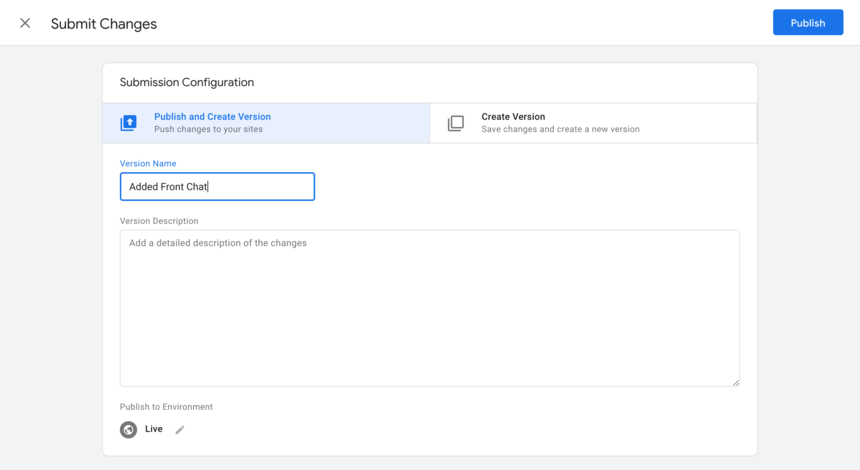 Step 9
When you are happy with the changes you have prepared for your Tags, hit Submit to publish your changes, and make Front Chat live on your website.