How to enable and use the HelpDocs integration
Edited
Overview
HelpDocs is a knowledge base tool that helps you keep your documents from aging. HelpDocs has created an integration that makes it really easy to send knowledge base articles to your customers when you're responding to their messages from Front.
Like other integrations, you need to be an admin in order to set up the HelpDocs integration.
---
Instructions
Step 1
Click the gear icon on the top right of Front and into the Company settings tab, and select Integrations from the left menu.
Step 2
Select HelpDocs from the list of integrations. Click to the Settings section and toggle on Enabled. Click Save to finish enabling the integration.
Step 3
Copy your Secret Key.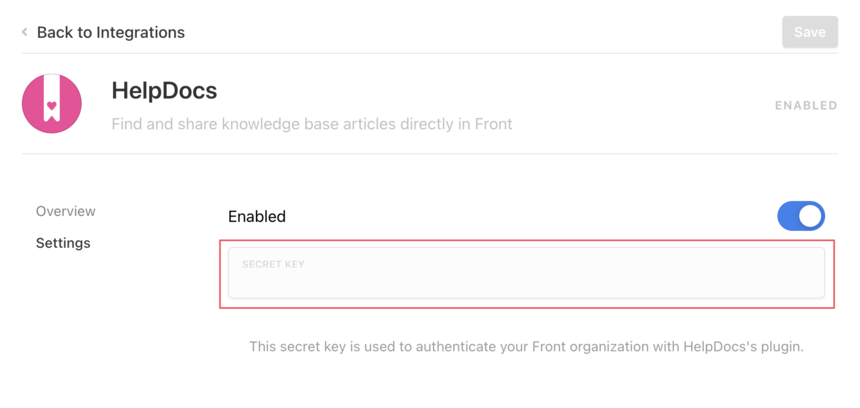 Step 3
Go into your HelpDocs dashboard, go to Settings, and then Integrations. Paste the Secret Key that you copied from Front.
Step 4
Click Save.
---
Using the integration
Select HelpDocs from the integrations switcher in your inbox to open the sidebar plugin. You can search for HelpDocs articles directly from Front, and insert links to articles in your messages with one click.